YouTube Unskippable Pre-Roll Ads Roll Out
Don't like YouTube ads? You might be out of luck! Following on from last week's post about how YouTube was implementing a Paid Subscription service, this week I'm having a look at Unskippable Pre-Roll Ads.
Pre-Roll Ads
If you've ever watched a YouTube video then you will have experienced the pre-roll ad. An advertisement video that plays before the video you want to watch. These take a variety of formats from straight up reuses of TV adverts, short films, simple to camera presentations and more.
Its not just YouTube that uses these pre-roll and even midstream video ads, services like Daily Motion also use them.
If you've experienced a pre-roll ad then more than likely you will have clicked the 'Skip Ad' button that appears after 5 seconds. Many made for purpose pre-roll ads specifically appeal to viewer not to click the skip button. Most of us don't hear them out and skip to what we actually want to see.
Unskippable ads have been around for some time now, however YouTube is planning on much wider roll out by advertisers. The only sure-fire way to avoid them – without resorting to browser plugins will be to take up YouTube's forthcoming Ad Free Subscription Service.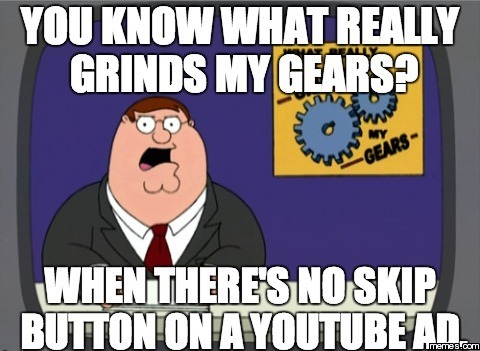 Unskippable Impact
The obvious benefit for YouTube and its partners from wider use of unskippable pre-roll ads will be a higher take up of the Ad Free Subscription option. People are generally happy to pay for a premium video service to avoid adverts. Ad free online video streaming service Netflix for example is subscription based which now has 57 million subscribers. Variety reported that despite a slow in growth in 2014, Netflix added 4.33 million in the last 3 months of 2014 alone.
Unskippable Revenue
Since implementing limited use of unskippable ads, those that have used them have reported a 70% increase in revenue compared to skippable ads.
This indicates that people are willing to put up with ads if the content is valuable to them. If they for example subscribe to a particular YouTube Channel they might very well happily watch the ad skippable – knowing that their preferred content maker is benifiting.
Pre-Roll Ad Format Impact
If the majority of pre-roll ad placements become unskippable we can say goodbye to the cringe worthy plea for us not to skip the ad. Without that need to make an instant and often off putting grab for attention there could be more room for creativity in ads and flexibility in their format.
Above is a great example of how one agency came up with a way to show everything they needed in less than 5 seconds and take advantage of the 5 second skip rule. They actually encourage you to skip the add after the 5 seconds. Admittedly this is for sports car, showing off its acceleration, this technique isn't going to work for most products or services.
Depending on where Google and YouTube set the final price point for their ad-free subscription service, pre-roll ads may have to get very creative and consistently high quality to be tolerated. Make that subscription a super low price and within a couple of clicks users will be signed up via their Google Account.
Subscription Certainty
Web based subscription services have become extremely easy to sign up for and manage. Google already offers music services, accessible via all android phones as well as the web. Apple has offered an extremely easy to access payment system via iTunes for a long time. Google allows you to very easily subscribe to apps and services via the Play Store.
If you already have a payment method attached to your Google account – signing up for this ad-free subscription for YouTube will be a few clicks away.
Will you be tempted by the convenience of an ad-free YouTube to avoid being ?
Interested in exploring using Video Marketing and YouTube to promote yourself, products and services? Get in touch with Workshop Media. We'll be happy to help and advise.